Ignite the Spark Within (ISW)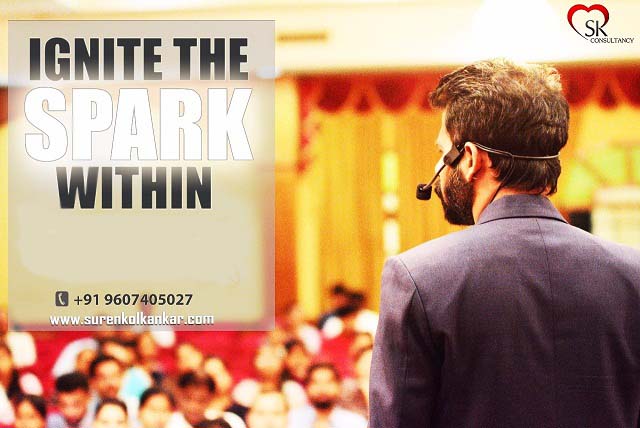 We are gifted with a beautiful life but unfortunately very few people are cherishing the beauty of their life.
The world is developing and with this development, we are so engrossed that we have forgot to develop our self. Unknowingly, we are running few patterns which is limiting us in our inner growth. We have an unlimited power within us and this is the time to unleash that power. Lets Ignite that spark within, which will inturn fire the unlimited power within you.
ISW (Ignite the Spark Within) is based on the science of NLP (Neuro Linguistic Programming). Neuro-Linguistic Programming (NLP) represents a relatively new discipline dating back only to the mid-70s.NLP originated from several different intellectual disciplines as organized by two co-founders—Richard Bandler and John Grinder.It is an exciting new field of endeavour in the Behavioural Sciences. It focuses on detecting critical patterns of human behaviour including our observable actions in the world, our thinking processes and the organisation of our states of mind.
Neuro Linguistic Programming, or NLP, explores how we think and feel, and examines the "inner" language we use to represent our experiences. NLP also studies what we know about human interaction and human achievement, and uses that knowledge to "model" excellence in every walk of life. The theories and techniques of NLP help you to discover what makes some people excel in their lives, and gives you the practical tools to do the same.
Using NLP gives you more conscious choice over what you do, and the ways you act, increasing your ability to reach your goals and objectives. And because NLP techniques are easy to understand and easy to use, you can begin using NLP within minutes!
NLP techniques are based on the concept that you already have all the internal resources and capabilities you need to effect change in your life and the lives of those around you. These techniques give you the ability to choose an emotional or mental state and hold it – for as long as you want, whenever you want.
Typically, many people have difficulty maintaining a focused state of concentration, confidence, enthusiasm, inspiration, motivation, influence, or learning. NLP techniques allow you to automatically access any state you choose, and to be flexible enough to achieve the desired result.
What will you learn?
The secret of how to instantly feel happy, excited, motivated, energized.
The Physiology and Psychology of excellence.
The power of language in influencing the thoughts and actions of yours and others.
The power of effective questioning.
Business skills like improved leadership, coaching, sales, influence and managing change
How to build highly effective relationships by harnessing verbal AND non-verbal communication.
The Psychology of Leadership – how understanding peoples mental processes can help you achieve outstanding results
Managing your hot buttons – understanding, managing and controlling your emotional responses and managing those of others.
The miracles of consistent focus.
Learn to set and achieve compelling goals through the use of well formed outcomes.
Discover techniques to self-lead, be resourceful and manage yourself better.
Build rapport & develop quality relationships to influence, negotiate and resolve conflict easily.
Discover how high achievers attain excellence and how to replicate their success.
Discover how we see, hear, and feel the world.
A simple model of communication that will enable you to always get your message across with friends, colleagues & associates.
Beliefs of excellence that will change the way you experience and interact with those around you.
Learn to recognize and use powerful language patterns.
ISW sessions increase the way you interact with other people. The strategies you will learn will assist you to live in harmony together with your family members and you will find it easier to make them your principal priority in life.
Enroll your self . Call us to now the next Ignite the Spark Within Event  +91 9607 405 027 or email : info@surenkolkankar.com
Mr. Suren Kolkankar is a compassionate, energetic and truly engaging speaker. I have recently completed my NLP Practitioner course with him and his mentorship during the session were interesting and motivated and offer insights that takes many of us a lifetime to learn. I would like to thank you for what you are doing to encourage people to believe in their ability to be heartfelt. I appreciate your work to make the kind of difference that will change our world coming from our hearts become the norm rather than the exception. Suren! You Are Simply Best. I am grateful that our paths crossed and certainly hope that they do again. May you reach zenith of success. Keep in touch. Manpreet Sandhu

Manpreet Sandhu


10/10/2018

Suren was an amaaaaazing facilitator and coach, he made my journey smooth and clear during my NLP Practitioner with his kind support, even beyond the contents. He is GREATE anchour in my life that will remain forever in my mind, looking fwd for more programs and partnership with him.

Hassanein Ismail


9/27/2018

Suren is an awesome trainer who connects with his audience instantly and make them feel comfortable. He has an in depth knowledge of what he trains and tell...

Yukti rastogi


9/27/2018

Suren has the special ability to connect with you on a personal level, gauging your individual level of knowledge and needs and tailor make his coaching advice and methods to suit your individuality. What I really like about him is his ability to let us APPLY what we learn in our daily lives and challenges that we face. He is very focused on how we can practically solve our challenges by applying NLP.

Krishna Maruthur


9/02/2018

I met Suren in 2016 during my Practitioner Course in NLP. I found him too good with the content and delivery of NLP. I am lucky to get him in my Master Practioner and Trainer Course in NLP too. He is deep into knowledge and the way he explains it appears as if NLP is a cake walk and anyone can do. He mentored me during my Training course in NLP and he now is not only a Senior Master Trainer Candidate rather he is a Master Mentor too. I can suggest that anyone who will have him as a coach will see success in NLP for sure. Very soon he will be another few Master Trainers in NLP. I wish Suren all success. Although he is younger to me by age still I feel good addressing him as Suren Sir due to his knowledge of NLP and attitude of a Mentor Love You Suren

R.Mangesh Dash


5/12/2018

I completed as a NLP certified practitioner in the month of January 2018,it has tranformed my life totally. All credit goes to Suren sir who was my coach and trainer. He's a great personality I have ever seen,he will make sure that whatever we desire we can accomplish on our own. He has the capacity of transforming the lives of the people. Indeed it transformed mine,as the god creates we human being Suren sir is the creater of leaders......thank you sir and best of luck.

Rachna Abhigiri


4/30/2018

Mr Suren Kolkankar is an inspiration and I am sincerely indebted to him for his time & effort in building my personal & professional confidence. NLP is indeed a powerful life-enhancing tool, and I have benefited hugely from it. Suren's passion and dedication in his training sessions sets him apart. His genuine efforts towards empowering people & creating leaders through the personal attention he gives them, is greatly appreciated.

Rina Barreto


4/28/2018

I completed my NLP Practioner certification course with Mr. Suren Kolkankar and Dr. David Lincoln in GOA. It was a indeed a wonderful learning experience with Mr. Suren; His depth of knowledge and the ability to make the concepts easy and simple groove into my mind and helped me to learn NLP very fast and in depth. I wish him all the very best and keep on inspiring and teaching with his passion.

Sarvesh Joshi


4/26/2018

Nice journey great day

E tel Gobi


4/20/2018

Suren is without a doubt the best trainer I have come across. He has a way of connecting instantly with every student and has a very humble and honest approach in his teaching skills. It was an absolute honour to be taught by Suren and his teachings will stay with me forever. I will definitely be back to lean more from Suren in the future. Thank you Suren!

Alex Prew


3/16/2018

Suren is a phenomenal trainer and a coach I've come across for years. He know his subjects to the core, always advocates interactions amongst teams and patiently lends his ears to every question..Truly an ace Master Trainer.. Gratitude & Best Wishes Suren? ??.

Nilesh


3/12/2018

Michael and the staff on this cruise ship were amazing, I would defiantly recommend this to anyone looking! Deffinatly worth it 100%

alex samuel


12/08/2017

The staff arrived 15 minutes early and were very friendly and professional. We had a great experience!

Larissa Fitzhugh


6/26/2017
Summary
Reviewer
Review Date
Reviewed Item
Ignite the Spark Within , Attended Ignite the spark within(#ISW) 11th n 12th Nov 2017 @taj exotica goa. It was two days transformation workshop based upon NLP..during workshop we had lots of fun enjoyment n gained knowledge about NLP and some techniques.. Sk consultancy helps individuals to develop leadership, interpersonal, presentational skills and guides them in a better ways.. Mr. Suren kolkankar ceo & co-founder of sk consultancy, he is one of the best peak performance coach, motivational speaker & great leader.
Author Rating