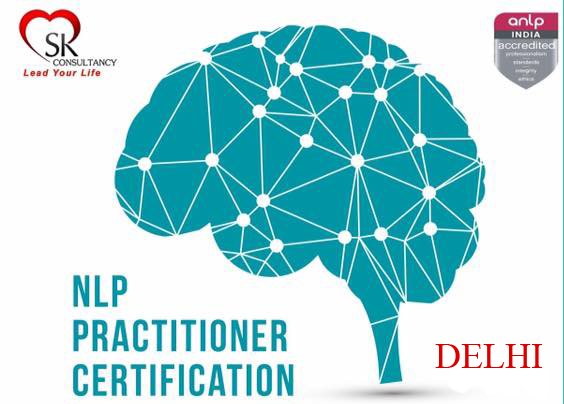 NLP Traning in delhi is conducted by Mr Suren Kolkankar from SK CONSULTANCY an Internationally Certified Master Practitioner and a Trainer of Neuro- Linguistic Programming.
Having 10+ years of experience in a Multi-Level Marketing industry helped him to understand human behavior to its core.
Why not NLP ?
NLP Technique enable you to unlock that potential that you always desired of – after all, we all are… It will help to change the way you think and understand the situation. Times when the glass was half empty will not matter anymore – you will be able to just drink the full glass and be done with it.
After studying NLP you will be able to influence and negotiate with colleagues and clients, communicate effectively with yourself and with others, calibrate and read from people without a spoken word, motivate yourself and influence your unconscious mind so that you can take control of your life if you haven't already and of course help others to do the same. The reasons 'why' list is endless. As for the purpose, attend Mr suren kolkankar nlp training and we will ask you that question at the end.
To see and hear Mr suren kolkankar…Contact Us
Note: The Certified NLP Practitioner is a beginner step towards understand and practicing nlp in day to day life events.
Enroll your self for nlp certification . Call us to now the next nlp training in Delhi +91 9607 405 027 or email : info@surenkolkankar.com
Best Life coach ever. His NLP sessions are life changing. You will be forced to believe in yourself and do better in life 😊 Above all, he is a great selfless human being 🙂

Srishti Malik


4/06/2019

Suren is an amazing person first and then an even amazing trainer. His compassion for people and a zest to transform their lives is evident in his trainings. He goes an extra mile to support his students. His NLP Training is an investment in your life. My regards and gratitude to him and his super supportive team.

Mishthy Sablania


3/02/2019

The course gave a lot of insight into practical day to day application. NLP added more details, knowledge and innovative elevation to my psychology background. Thank you Suren Sir, for making the concepts more comprehensive and applicable. Liked the way you deliver the core content. Feel so empowered to evolve and elevate in life. Nlp enhanced the benevolent nature within me. It's my sanguineous desire to create a new perspective of my existence. You were a true example of values and knowledge. Thanking you with gratitude.

Godeliva Rodrigues e Gomes


2/23/2019

It was really fantastic experience. NLP is something within us but the training helps to awaken the power and One can really change the way of looking towards the world. Best part of NLP is one can cure any kinda phobias and help others to change or reframe the frames which can help others to focus on their goals.So let's see the world differently with NLP.Thank you Suren Kolkankar for the training...

rahul kmt


2/22/2019

Thank you Suren, for the outstanding training you provided last few days in Delhi. A strong presence, the energy and passion you exuded through powerful delivery is a sign of well embodied & experimented application of NLP techniques and tools. NLP to me is a life skill and topics of such nature is a hard skill to impart as knowledge. The reassurance you gave us when overwhelmed from time to time was encouraging. It was apparent that your enthusiasm stems from your soulful desire to see everyone grow and transform through application of these techniques. I feel lucky to be recipient of your training. Sincerely looking forward to a life-long association with you as my transformational journey has just begun and you are going to be instrumental in making it more exciting, uplifting and inspiring for me. Wish you all the very best in all your ventures👍🏻

Jumana Parveen


2/18/2019

NLP as a course is a bit tough to understand fully but when it comes to taking the same from Suren, it gets very easy to understand with adding value to your own personality.I would highly recommend Suren Sir's coaching as those are so highly effective for your personal and professional growth.

Rutika Meshkar


2/15/2019

It was Amazing, NLP is great tool for our life. I had learned more than i expected. I enjoyed, learned, got scope and i understood my zones. Now i am enjoying the NLP tools in my life. Even i had made it helpful to my family and friends. Thanks to Suren sir, he trained us so perfect and with very comfortable language. Thank you sir.

Satyshiv Pande


1/20/2019

NLP training was very interesting, insightful n thought provoking. It was turning point and transformation for me. It given me an idea to look every problem in different perspective and provide positive outlook out of it and also different approach to handle various pattern of thoughts and translate it to meaning full behaviours. It was crafted my intellect to an exceptional state. It's also help me in re pattern my thought process and set positive beliefs. Suren made concept very easy with practical scenario. Methodology and attention given by Suren was effective in totality. Really it's revitalizing experience for me. I would highly recommend this training by Suren.

Maruti Patel


1/20/2019

Suren....the name enough in the field of NLP. A Coach, Mentor and a guide who loves his work and the same is delivered in his training sessions. He is the one who cleared all my doubts related to NLP. His programs are worth attending.Google has limited me to just 5 🌟. Hope I could add more stars here.

Sumit Bhardwaj


12/14/2018

I met Suren in starting of 2018 and always amazed with his depth of knowledge and mastery in NLP. He is a phenomenal international NLP trainer, mentor and coach. His passion of creating leaders and transforming people life makes him unique. Thanks Suren for mentioning me and bring out my excellent me !!

Abhishek Sinha


10/28/2018

I had a wonderful experience with Suren. He is truly an amazing guide who knows how to solve your doubts with so much ease. He is the best I know if anyone wants to learn NLP techniques. Hats off to his skills n for the kind of person he is.

Ayushi Madaan


10/24/2018

Mr. Suren Kolkankar is a compassionate, energetic and truly engaging speaker. I have recently completed my NLP Practitioner course with him and his mentorship during the session were interesting and motivated and offer insights that takes many of us a lifetime to learn.I would like to thank you for what you are doing to encourage people to believe in their ability to be heartfelt. I appreciate your work to make the kind of difference that will change our world coming from our hearts become the norm rather than the exception.Suren! You Are Simply Best. I am grateful that our paths crossed and certainly hope that they do again. May you reach zenith of success.Keep in touch. Manpreet Sandhu

Manpreet Sandhu


10/10/2018

Suren is an awesome trainer who connects with his audience instantly and make them feel comfortable. He has an in depth knowledge of what he trains and tell...

Yukti rastogi


9/27/2018

Suren has the special ability to connect with you on a personal level, gauging your individual level of knowledge and needs and tailor make his coaching advice and methods to suit your individuality. What I really like about him is his ability to let us APPLY what we learn in our daily lives and challenges that we face. He is very focused on how we can practically solve our challenges by applying NLP.

Krishna Maruthur


9/02/2018

I met Suren in 2016 during my Practitioner Course in NLP. I found him too good with the content and delivery of NLP. I am lucky to get him in my Master Practioner and Trainer Course in NLP too. He is deep into knowledge and the way he explains it appears as if NLP is a cake walk and anyone can do. He mentored me during my Training course in NLP and he now is not only a Senior Master Trainer Candidate rather he is a Master Mentor too. I can suggest that anyone who will have him as a coach will see success in NLP for sure. Very soon he will be another few Master Trainers in NLP. I wish Suren all success. Although he is younger to me by age still I feel good addressing him as Suren Sir due to his knowledge of NLP and attitude of a Mentor Love You Suren

R.Mangesh Dash


5/12/2018

I completed as a NLP certified practitioner in the month of January 2018,it has tranformed my life totally. All credit goes to Suren sir who was my coach and trainer. He's a great personality I have ever seen,he will make sure that whatever we desire we can accomplish on our own. He has the capacity of transforming the lives of the people. Indeed it transformed mine,as the god creates we human being Suren sir is the creater of leaders......thank you sir and best of luck.

Rachna Abhigiri


4/30/2018

Mr Suren Kolkankar is an inspiration and I am sincerely indebted to him for his time & effort in building my personal & professional confidence. NLP is indeed a powerful life-enhancing tool, and I have benefited hugely from it. Suren's passion and dedication in his training sessions sets him apart. His genuine efforts towards empowering people & creating leaders through the personal attention he gives them, is greatly appreciated.

Rina Barreto


4/28/2018

I completed my NLP Practioner certification course with Mr. Suren Kolkankar and Dr. David Lincoln in GOA.It was a indeed a wonderful learning experience with Mr. Suren; His depth of knowledge and the ability to make the concepts easy and simple groove into my mind and helped me to learn NLP very fast and in depth.I wish him all the very best and keep on inspiring and teaching with his passion.

Sarvesh Joshi


4/26/2018

Suren is without a doubt the best trainer I have come across. He has a way of connecting instantly with every student and has a very humble and honest approach in his teaching skills. It was an absolute honour to be taught by Suren and his teachings will stay with me forever. I will definitely be back to lean more from Suren in the future. Thank you Suren!

Alex Prew


3/16/2018

Suren is a phenomenal trainer and a coach I've come across for years. He know his subjects to the core, always advocates interactions amongst teams and patiently lends his ears to every question..Truly an ace Master Trainer.. Gratitude & Best Wishes Suren? ??.

Nilesh


3/12/2018
Read more on
Comments
https://www.surenkolkankar.com/wp-content/uploads/nlp-training-in-delhi.png
404
564
Suren Kolkankar
http://www.surenkolkankar.com/wp-content/uploads/anlp_sk_ec_nlp-Copy-2-300x106.png
Suren Kolkankar
2018-04-19 17:38:49
2018-12-24 00:43:36
nlp training in delhi