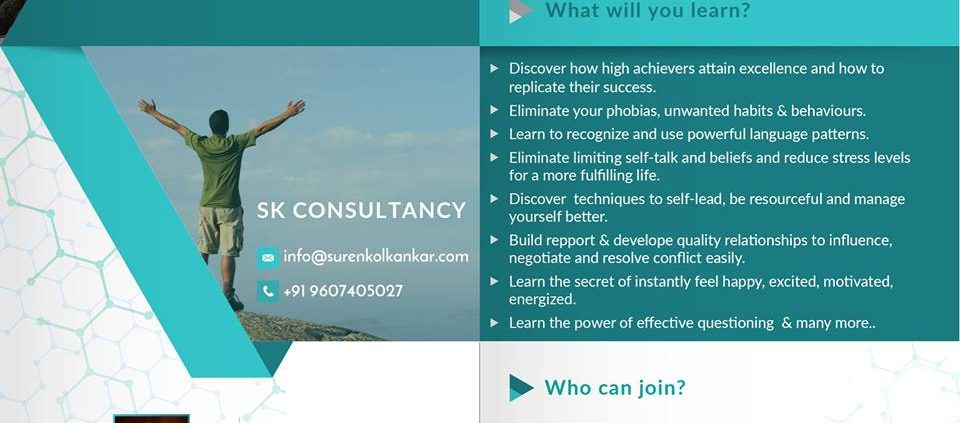 NLP Traning in pune is conducted by Mr Suren Kolkankar, Founder and CEO of SK CONSULTANCY an Internationally Certified Master Practitioner,Life Coach and a Trainer of Neuro Linguistic Programming. Having 10 years of experience in a Multi-Level Marketing industry has helped him to understand human behavior to the core.
Why NLP ?
It enable you to unlock that potential you have been desperate to get at – after all, we all are… It will change the way you think and understand the world forever. Those times when the glass was half empty will not matter anymore – you will be able to just drink the damn stuff and be done with it.
After studying NLP you will be able to influence and negotiate with colleagues and clients, communicate effectively with yourself and with others, calibrate and read from people without a spoken word, motivate yourself and influence your unconscious mind so that you can take control of your life if you haven't already and of course help others to do the same. The reasons 'why' list is endless. As for the purpose, attend Mr suren kolkankar nlp training and we will ask you that question at the end.
Note: The Certified NLP Practitioner is a beginner step towards understand and practicing nlp in day to day life events.
To see and hear Mr suren kolkankar…Contact Us
Enroll your self for nlp certification . Call us to know the next nlp training in pune +91 9607 405 027 or email : info@surenkolkankar.com
Suren has the special ability to connect with you on a personal level, gauging your individual level of knowledge and needs and tailor make his coaching advice and methods to suit your individuality. What I really like about him is his ability to let us APPLY what we learn in our daily lives and challenges that we face. He is very focused on how we can practically solve our challenges by applying NLP.

Krishna Maruthur


9/02/2018

He's not the one who wears the caps of piled 'titles' of (a Master trainer of NLP, a Psychotherapist and a Coach) not only for the sake of technical aspects but he's the one who wears these titles in terms of the 'literal' sense. I have come across several figures in the field of NLP but Suren Kolkankar is the one in this comprehensive field that any curious mind and 'lover of knowledge' would be grateful for. How can one remain unobservant of his aura, his excellency to connect and re-connect with the mass, his deep knowledge of NLP, the undivided attention, the absolute professionalism, the genuine respect and care, and his in-depth understanding of the human behaviours. I wish him all the best and the forthcoming successes that surely deserves to be in his way. I would recommend any aspirant who wants to be dominant head in the field of NLP should be trained by Suren Kolkankar. Trust me, he absolutely knows what you need in your path and the ways. Go ahead with him. 🙂👍

Jasmine Sultana Ahmed


6/09/2018

I met Suren in 2016 during my Practitioner Course in NLP. I found him too good with the content and delivery of NLP. I am lucky to get him in my Master Practioner and Trainer Course in NLP too. He is deep into knowledge and the way he explains it appears as if NLP is a cake walk and anyone can do. He mentored me during my Training course in NLP and he now is not only a Senior Master Trainer Candidate rather he is a Master Mentor too. I can suggest that anyone who will have him as a coach will see success in NLP for sure. Very soon he will be another few Master Trainers in NLP. I wish Suren all success. Although he is younger to me by age still I feel good addressing him as Suren Sir due to his knowledge of NLP and attitude of a Mentor Love You Suren

R.Mangesh Dash


5/12/2018

I completed as a NLP certified practitioner in the month of January 2018,it has tranformed my life totally. All credit goes to Suren sir who was my coach and trainer. He's a great personality I have ever seen,he will make sure that whatever we desire we can accomplish on our own. He has the capacity of transforming the lives of the people. Indeed it transformed mine,as the god creates we human being Suren sir is the creater of leaders......thank you sir and best of luck.

Rachna Abhigiri


4/30/2018

Mr Suren Kolkankar is an inspiration and I am sincerely indebted to him for his time & effort in building my personal & professional confidence. NLP is indeed a powerful life-enhancing tool, and I have benefited hugely from it. Suren's passion and dedication in his training sessions sets him apart. His genuine efforts towards empowering people & creating leaders through the personal attention he gives them, is greatly appreciated.

Rina Barreto


4/28/2018

I completed my NLP Practioner certification course with Mr. Suren Kolkankar and Dr. David Lincoln in GOA.It was a indeed a wonderful learning experience with Mr. Suren; His depth of knowledge and the ability to make the concepts easy and simple groove into my mind and helped me to learn NLP very fast and in depth.I wish him all the very best and keep on inspiring and teaching with his passion.

Sarvesh Joshi


4/26/2018

Nice journey great day

E tel Gobi


4/20/2018

Suren is without a doubt the best trainer I have come across. He has a way of connecting instantly with every student and has a very humble and honest approach in his teaching skills. It was an absolute honour to be taught by Suren and his teachings will stay with me forever. I will definitely be back to lean more from Suren in the future. Thank you Suren!

Alex Prew


3/16/2018

Suren is a phenomenal trainer and a coach I've come across for years. He know his subjects to the core, always advocates interactions amongst teams and patiently lends his ears to every question..Truly an ace Master Trainer.. Gratitude & Best Wishes Suren? ??.

Nilesh


3/12/2018

Michael and the staff on this cruise ship were amazing, I would defiantly recommend this to anyone looking! Deffinatly worth it 100%

alex samuel


12/08/2017

The staff arrived 15 minutes early and were very friendly and professional. We had a great experience!

Larissa Fitzhugh


6/26/2017
Read more on
Summary
Reviewer
Review Date
Reviewed Item
NLP Practitioner , Fantastic meeting Suren at his office after I became an NLP Practitioner - Simple and Powerful mission of Suren cof "Creating Leaders" can absolutely be felt at SK Consultancy- Truly inspirational.
Author Rating
Comments
https://www.surenkolkankar.com/wp-content/uploads/nlp_pune.jpg
938
960
Suren Kolkankar
http://www.surenkolkankar.com/wp-content/uploads/anlp_sk_ec_nlp-Copy-2-300x106.png
Suren Kolkankar
2018-04-19 16:30:08
2018-05-02 15:54:31
nlp training in pune